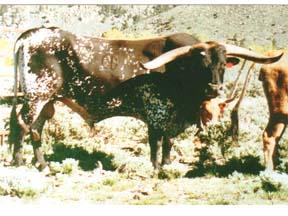 Gunman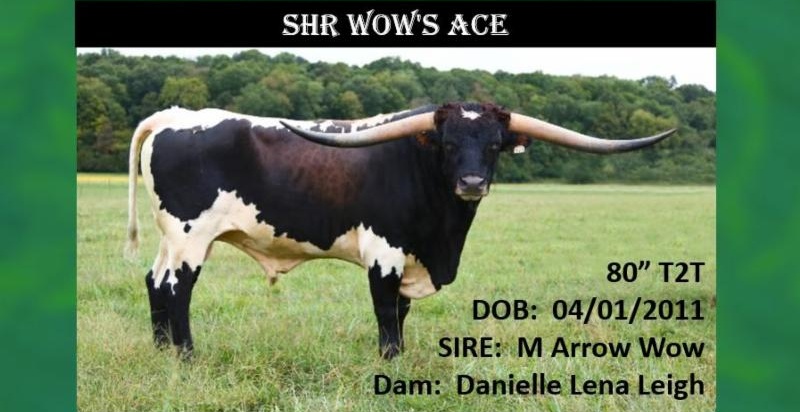 Welcome to our web site!

My name is Ron Jones and my wife, Jo and I, welcome you to our Texas Longhorn site. Enjoy the tour and if you see something you like, please feel free to contact us.
Gunman was born in 1993 and used only 3 years on our small herd. We had only 1 cow at that time with over 50" of horn tip to tip. We have built our herd upon GUNMAN genetics. Most all of the Gunman sons and daughters you see throughout the U.S. and Canada were bred and born here in Salida, Colorado. Gunman bred cattle usually have alot of low, lateral horn that measures well tip to tip! Most cattle born on our ranch carry the "J.R." prefix indicating they were born here at Jones Ranch...by Jo and Ron!
We usually have a price on some of our cattle. This price is as stable as the stockmarket...they change daily sometimes! If you find a price you like give us a call. It pays to check back often as we sometimes have some real "specials"!!
Last Update:3/13/2020; one new measurement; We usually have a couple special deals on some of our best cattle!!Our calves by Gambler are the best and tamest we've ever raised. Notice: due to health reasons we are having to sell off our herd and ranch and move to a much lower altitude. We are looking to find good homes to our wonderful cattle. Note low prices...or make an offer. 5/31/2020 Most of our herd has sold over the past 2 weeks; however we have most of our 2018 yearlings still available. They are measuring up to 70"ttt@ 22 months! update: Justin and Melanie Miller just picked up our remaining '19 heifers. Rick and Lisa Nance of Blessing, Tx. have picked up 7 head of our best...only 3 adults left. These last 3 adults, Frolic=75"ttt@ 25 months and calf, Shianne and calf and M2 Mopar (Gunman lookalike bull) have just left our ranch. They were purchased by Art Hansen of Harrisburg, South Dakota. Our new "ranch" will be at 214 N San Juan Trl., Casa Grande, Az. Love and Thanks, Ron and Jo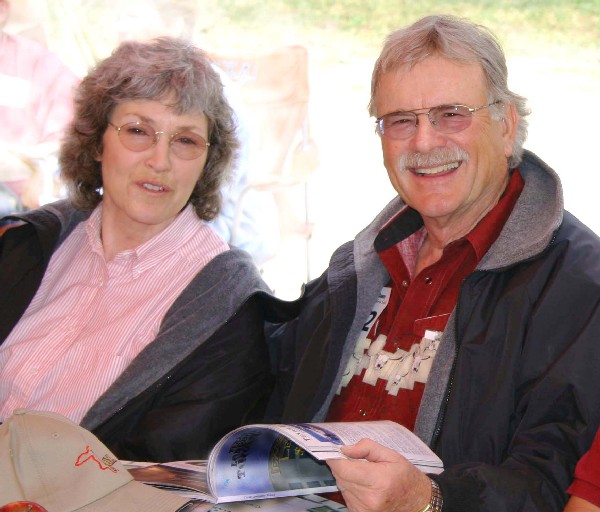 Jo and Ron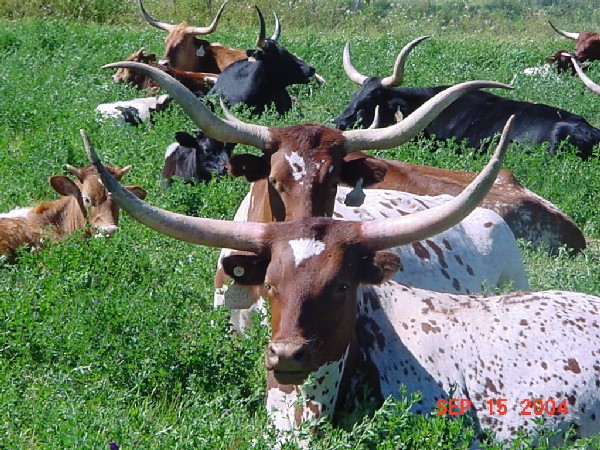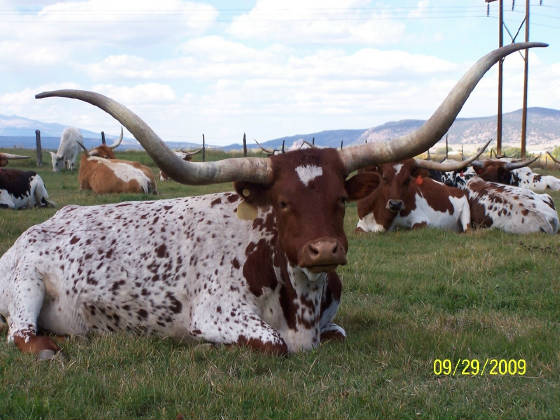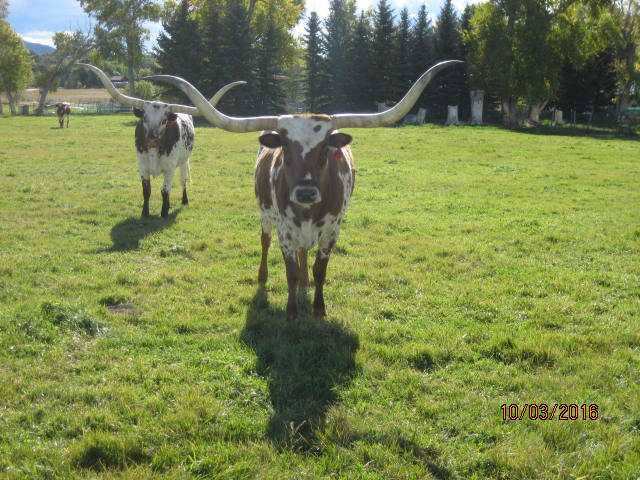 Top picture=Gandi, Dandi, and Friends! Dandi is by Gunman. She has been purchased from us by Joshua Cashman. Gandi is a granddaughter of Gunman out of Dandi. She is pictured as a 2 year old. The 2nd (lower) picture is a picture of Gandi at 7 years of age . We like twisty horns! Third picture is of Gandi's daughter, Gayla, and her granddaughter, Ginger Snap....both are still in our herd as of 10-05-16.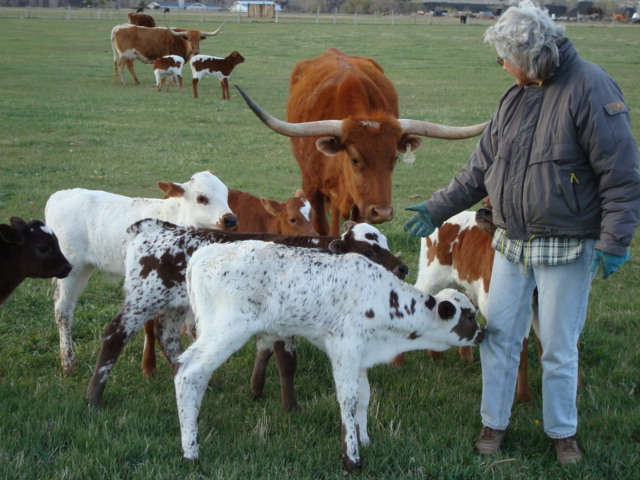 Our '09 and '10 calves are beautiful but have "aggressive" personalities!!
Breeding our linebred Gunman females to the great Premium bull has given us the best class of '05 heifers in the country according to Dick Lowe of Triple R Ranch in Horton Michigan!! He'd traveled the country and seen the rest when he made this statement in the fall of '06. Journey through our web site and see if you find these heifers and their families. Enjoy!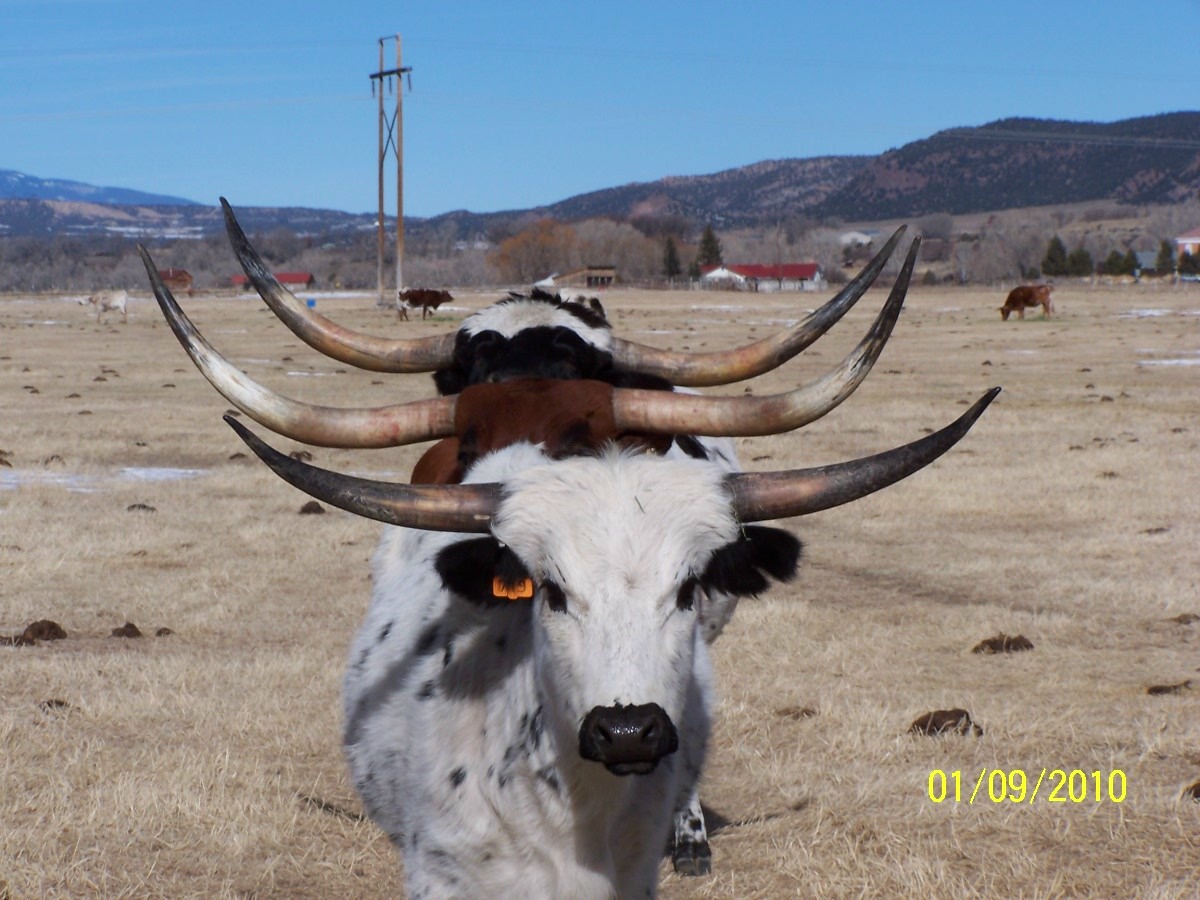 We are always trying to get our "ducks" in a row for top production!
Here's the scoop on our tried and prooven bulls:
Gunman gives us that early and lateral horn growth.
Premium gives us early and late horn growth...with a twist... and perfect conformation. K.C. Just Respect gives us more frame with perfect conformation, color golore...with specks, LATE horn growth with abundant thickness of horn. All three bulls give us excellent Disposition on their progeny. Don't miss our Sale...every day 24/7!!
We were pleased to see K.C. Hershey's Kiss sell as the '09 Legacy Sale for $65000! She is a 2/3 sister to our K.C.Just Respect as they are both sired by the great but short lived bull, Hunts Demand Respect (plus they both have Gunman genetics). Our friend, Craig Perez, said "Anyone that hasn't figured out Hunt's "Demand" Respect's power by now has their eyes and ears closed!"
October-You may have noticed that Bill Hudson has purchased our K.C. Just Respect bull. The Les Craft family from Houston then bought our J.R. Viking bull. This was not by design! We are trying to restructure our future breeding program around some of our young bulls. We have also recently purchased the bull calf, J.R. Quixote, out of Hershey's Kiss and by J.R. Tribune. We like to recycle the best Gunman outcrosses we can get our hands on.
Jo and I have an executive board meeting every morning of the year outdoors before sunup. We make all of our executive decisions for the day at that time...like who will take out the trash. From where we sit our cattle program really looks good!!