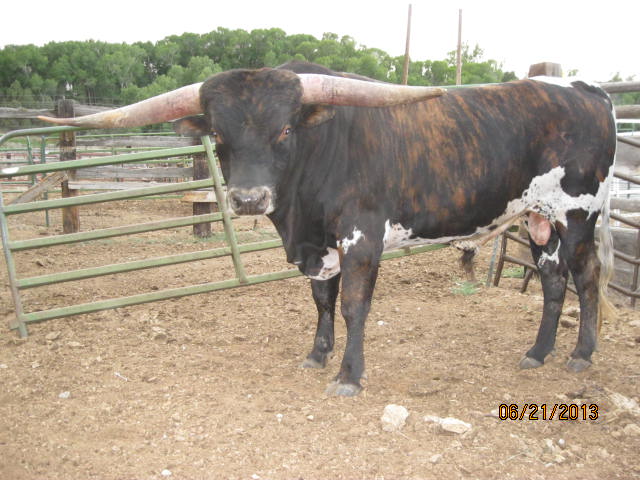 North Star J.R.; DOB=2/11/11; Sire=Star Regard; Dam=Sequential Stars; He comes to us from the wonderful herd of Star Creek Ranch, Darlene Aldridge and John Parmeley. 26.25"ttt@10.75 months. We hope his pedigree and color will compliment our females as we hope to breed him some in '12. 29.25"ttt@ 12.0 months. 37"ttt@15 months; 40.5"ttt@16 months. 46"ttt@ 18 months. He has broken off 5" of horn!! We have 4 calves by him. They are wonderful!!
53.5"ttt@20.6months. 59"ttt@ 23.7 months. 64.75"ttt@28 months; Darlene has had wonderful results with North Star's dam, Sequential Stars (a daughter of our great Grand Slam): 3 of his sisters by her great bull, Starbase Commander will all be in the 90s ttt; 2 will eventually go over 100"ttt and will be the longest horned cows in the breed!!! SOLD.
GR Grand Unlimited
Peacemaker 44
Possum Queen
Star Regard
Rutledge's Dinger
Star Supreme Credit
Rutledge's Miss Somewhat
North Star J.R.
Gunman
H.R. Grand Slam
J.R. Sequential
Sequential Stars 81+"ttt
GF Southbrooke
Stars Southern Accent
585 Concho
Sequential Stars; dam of North Star; shown at 5 years old at 77+"ttt and 103.5"total horn...owned by Darlene Aldredge and John Parmeley of Star Creek Ranch.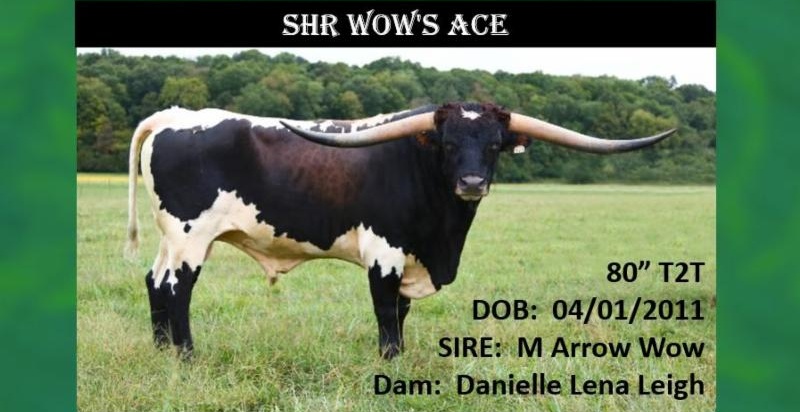 SHR Wow's Ace; DOB=4/01/2011; Sire=M Arrow Wow; Dam=Danielle Lena Leigh; Purchased from Doug and Sandi Stotts of Houston, Tx. when he was just a calf. 34.5"ttt@13.5 months; 37.5"ttt@ 14.6 months. 40"ttt@ 15.25 months. 50.0"ttt@19 months; 56"ttt@ 21 months; 60"ttt@23months; 64.5"ttt@26.5 months. 66.75"@27.75 months. 69.50"ttt@30.5 months; 70.75"ttt@ 32.0 months! 71.0"ttt@32.9 months; We bred him to most of our cows and heifers in 2013. 72.1"ttt@34.5 months; He's very gentle and reminds us of his great grandfather, Gunman! 73.25"ttt@36.0 months! We are liking his calves!! 76.75ttt@43 months! He and his calves are very gentle and easy to have around.

78.25ttt@48

months. We have bred the Ace for 3 years now and so he is for sale. His disposition is Perfect and he's a great breeder. We love his calves! $4500. Sold to Jim and Jodi Small of Arch Acres of Attica, In....who took the above picture soon after Ace arrived there.
Ranger's Ranch Hand
DH Red Ranger
Miss Dixie Watson 269
M Arrow Wow
Salida Slick by Gunman
Slick's Little Sister
Starlight
SHR Wow's Ace
The Ace
Temptation's The Ace
Lamb's Temptation
Danielle Lena Leigh
585 Overwhelming Toro
Danielle Toro
Coopers Danelle