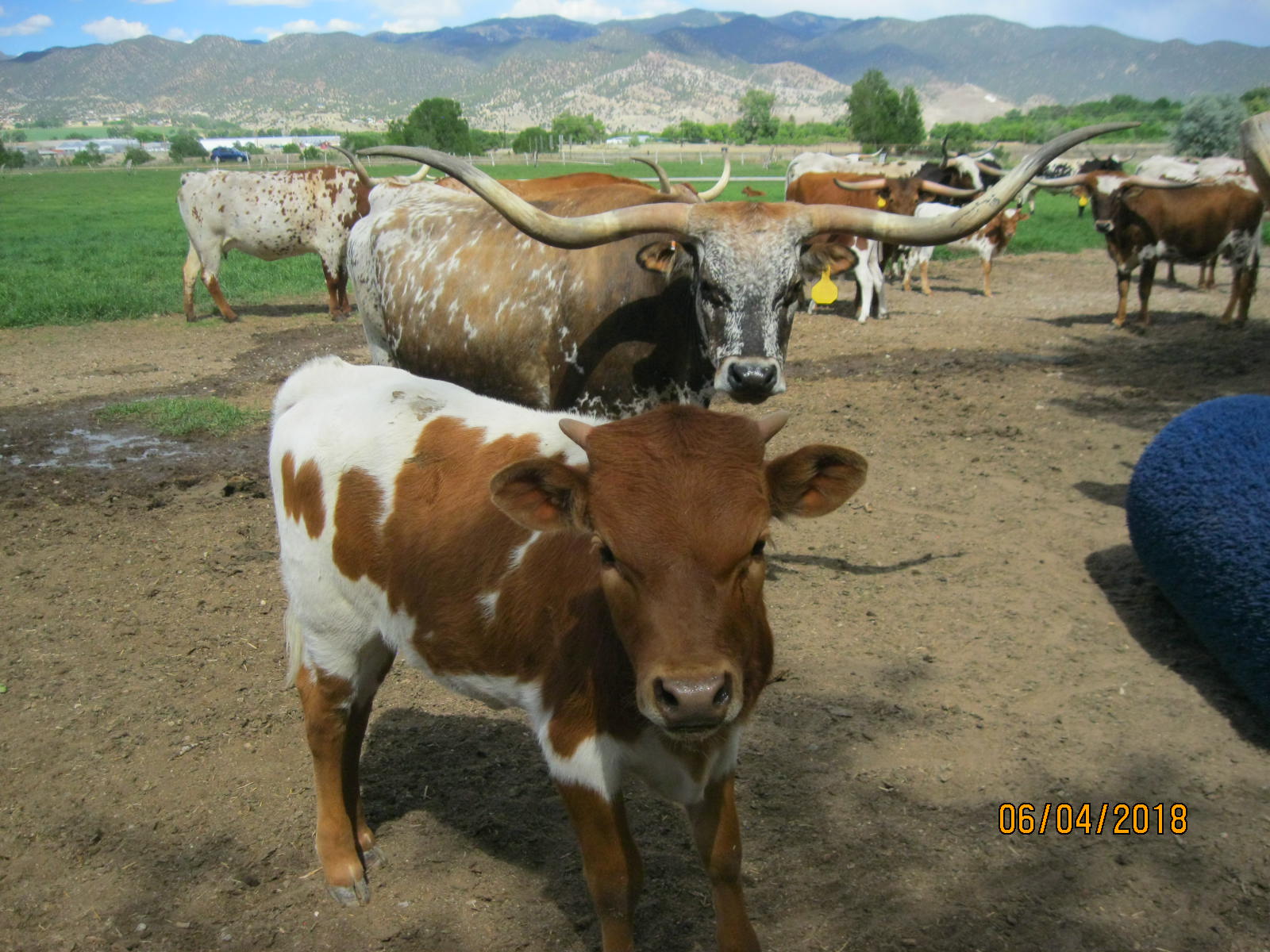 J.R. Milkmaid; DOB=5/30/10; Sire J.R. Viking; Dam=J.R. Milky Way; She looks just like her mother=a real compliment!! Her sire, Viking made only 1 trip to the LWC and he won 3 bronzes!! 38.25"ttt@14 months; 47.5"@21 months; For '12 she has a pretty heifer by the Grant bull, Mermaid...check her out!!! 56"ttt@28 months; 60"ttt@34 months; Her '12 heifer, Mermaid, had 38.5"ttt@ 12.0 months! Milkmaid measures 67.5"ttt@ almost 3 years. Mermaid had over 63"ttt @ 24 months!! Milkmaid has 70.75"ttt@4+years. 74.5"ttt on 2/6/17. For 2016 she has a heifer, Minx, by the Ace bull....who is a sister of Mermaid. For '18 she has a heifer by the big horned Gambler bull. This calf is also a sister to the great Mermaid heifer. $9000.
Pay Check BL
J. R. Premium=73"ttt
Dumplin 04
J. R. Viking=73"ttt
J. R. Grand Slam
J. R. Vixen
J. R. Vinni
J. R. Milk Maid
Pay Check BL
J. R. Premium=73"ttt
Dumplin 04
J. R. Milky Way=70+"ttt
J. R. Grand Slam
J. R. Got Milk
J.R. Nancy by Gunman
J. R. Galena; DOB=7/9/10; J.R. VikingXJ.R. Garnet; She is double Grand Slam and Premium!! 45"ttt@19 months; 53.5"ttt@26 months; 56.25

ttt@32 months; She's a 3/4 sister to our Grant bull...out of the Garnet cow who is out of the great 80+

Gandi cow! For '14 she has a heifer, grace, by the Ace bull. 64.25"@ 2.75 years. She has another pretty heifer for '15 by the Ace. 67.75"@4+years. 70.0"@5.3 years; For 2016 she has a pretty heifer by our Montana bull. Galena and Milk Maid are the only cows we have left who are by our great Viking bull who won lots of bronzes. They are big time producers. The only reason we would price her is because she always calves in August which is later than the rest of our herd. $7500 for Galena only. She's a beautiful cow with the perfect roll to her horns...and she's gentle like all of our cows. 72.25"ttt on 2/9/17. She is bred back to our great Gambler bull....she's due to calve 9/1/17. She sold to Clay Gines in Utah at the Select Sale. Clay has bought several of our good females.
Pay Check BL
J. R. Premium=73"ttt
Dumplin 04
J. R. Viking=73+"ttt
J. R. Grand Slam
J. R. Vixen
J. R. Vinni
J. R. Galena
Pay Check BL
J. R. Premium=73"ttt
Dumplin
J. R. Garnet
J. R. Grand Slam
J.R. Gandi =80"ttt
J. R. Dandi by Gunman
Enter subhead content here