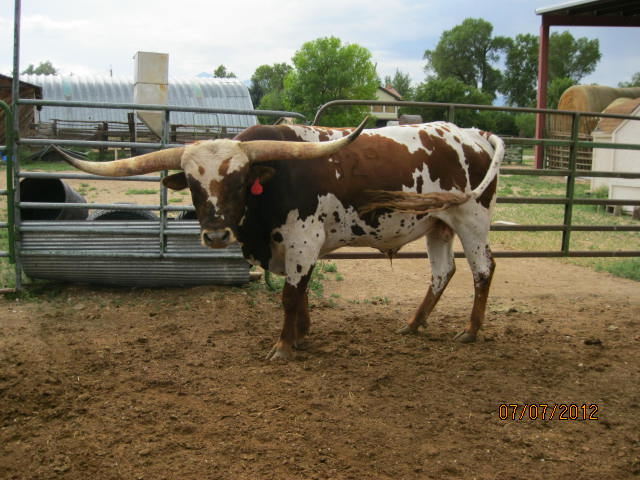 J.R.Grant; DOB=8/3/09; Sire=K.C.Just Respect; Dam=J.R.Garnet; He is genetically a full brother to Gingersnap ('08). He's a nice combination of Gunman, Hunt's Demand Respect, and J.R.Premium! He measures 49.0"ttt@18.75 months; He's a grandson of our great Gandi cow. 56.75"@21.6 months; He has huge bases. He projects to over 73"ttt. We are breeding him to over half of our cows this summer. 60.0" @ 25 months! 63.25"ttt@30 months! He is related to every "G" named cow in our herd=Gandi related! He's very gentle and well behaved. 65.75"ttt as a late 2 year old. We love his calves. SOLD!
Hunt's Command Respect
Hunt's Demand Respect =77+"ttt
Hunt's Black Beauty
KC Just Respect=76"ttt
Overhead=72+'ttt
KC Jazzmin=68+"ttt
K.C Pizzazz by Gunman
J.R. Grant =80"ttt
Pay Check BL
J.R. Premium=73"ttt
Dumplin by Roundup
J.R. Garnet
J.R. Grand Slam
J.R. Gandi=80"ttt
J.R. Dandi by Gunman
High Caliber; DOB=5-20-10; Sire=Top Caliber; Dam=Phenomenal Tari; Owned in partnership with Tom and Kimberley Lhoton of Dallas, Texas; Purchased from Tommy and Kathy Mulhollan of Call, Texasl He's 51"ttt @ 22.0 months. With his pedigree we expect some good horn growth and great progeny in the future. 55.5"ttt @ 24+ months. 60.75"ttt@28.25 months; 69.5"ttt on 12/1/14. We love his daughters.
Hunts Emperor
Hunts Command Respect
Miss Rodeo America
Top Caliber
Roundup
Hashbrown
Hashknife
High Caliber 26
Superior
Phenomenon
Doherty 698
Phenomenal Tari
Mr. Graves
Tari Graves
Texas Tari