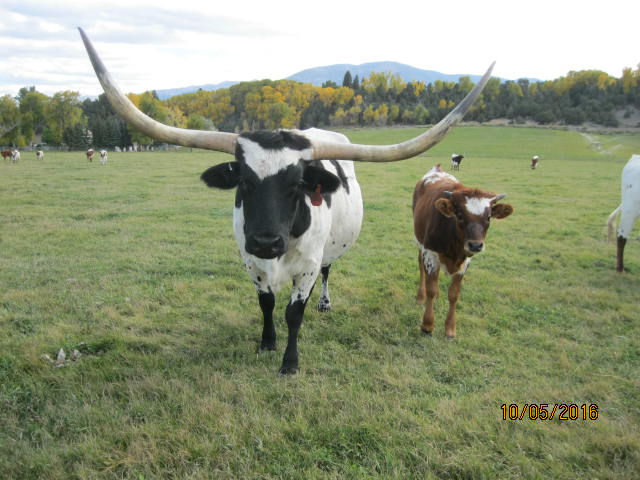 JR Flashback. dob 3/18/05.
Hunt's Demand Respect X KC Flashdance. 36" @ 14.75 months. Her horns are angled backwards some like her sire, Hunts Demand Respect. She goes back to Grand Slam - Gunman as well as Rangago and Hunt's Demand Respect. This is Kent Bladen/Ron Jones genetics at it's best. In the past 5 months she's grown 13"!! She has 45"@ 19 months. 49"@ 22.8 months. For '08 she has a pretty heifer named Fiesta by K.C. Just Respect who has 74.25"ttt@48.0 months! At 29 months she measures55.5"ttt.! At 35 months she has 58.75"ttt! At 40.33 months she has 60.75"ttt...with a ton of total horn. At 5.5 years she measures 68.75"ttt of high horn! She is 15% Gunman; 12% Grand Slam; 50% H.Demand Respect! She measures 71+"ttt with HUGE TOTAL HORN! She has a pretty heifer, Fanny, by the Grant bull for 2013. 76.25"ttt on 2/6/17...with a ton of total horn. She's a gentle cow. For 2015 she has a pretty heifer by the Ace. She has another pretty heifer by the Ace for 2016. She's a great producer Look at her daughter Fanny who won the '15 Futurity. She has a bull calf by the Montana bull for '17. $5500 for the pair. They sold at the Select Sale for $6000 to Russel Freeman of Yoder, Co.
JR Ginger. dob 4/17/05.
JR Premium X JR Gandi. Her horns are modest now but her horn genetics are HUGE!! She measured 22.8" at 10 months; 28" @ 12 months. 40.75"@19 months. Her dam, Gandi, has 73.25"ttt@6.25 years! Ginger has an extreme amount of twist for her age. She measures 55.75"ttt @ 34 months! Ginger is 25% Gunman; 50% Premium, 25%Grand Slam! For '08 she has a pretty heifer by K.C. Just Respect named Gingersnap. For '09 she has another pretty heifer (Gingerale) by K.C. Just Respect. At 39.5 months Ginger measures 60.5"ttt. She will hit 80"ttt before she's done!! At 45 months Ginger measures 64.0"ttt!! At 4 years she measures 66.5"ttt!! At 5.0 years she measures 71.25"ttt! SOLD (bull calf only) to Ross and Curtis Ohlendorf of Austin, Tx. She now measures 72.5"ttt. For '12 Ginger has a bull calf by our beautiful Grant bull. Ginger has 75"ttt on 1/25/16. ..look at her mama listed below! She has a pretty colored bull calf for 2016; they are consigned to the Select Sale in Aug. at Colorado Springs. She sold to Stan Searle for $7000.
JR Gandi. dob 4/9/02. Reference Cow
JR Grand Slam X JR Dandi. She is a nice double bred
Gunman
cow. She had a heifer by Phenoman for 2004 and her name is Gantry. Gandi is a typical Grand Slam daughter = Huge Horns!! 39" @ 19 months. 66.5"@ 4.5 years!!! For '05, Gandi has a heifer by Premium named
Ginger
. For '07 she has a heifer named Garnet by Premium=full sis to Ginger. For '08 she has a bull by K.C. Just Respect who measures 71"@36 months!! Her bull calf has been purchased by Steve Day of Texas/South Dakota. Thanks, Steve. J.R. Gandi now measures 72"ttt @ 5.8 years; 75.5"ttt @ 7.0
years; 76.25'ttt@7.5
years...heading for 80"ttt!!! Gandi has very HEAVY horn...with extreme TWIST= 100+" of TOTAL Horn!! She is 50% Grand Slam and 50%Gunman! She has a pretty heifer by K.C.Just Respect for '09=Gayla. Gandi is being bred back the same way for '10 with a calving date of April 24, '10. She is 7 years old and in 1 month she will have her 7th calf...6 of them heifers!! $42000. Sold to Richard Caroll of Barksdale, Tx. at the '10 Legacy Sale...THANKS! Richard says Gandi is over 82" now!